With the daylight-saving time change ⏰, this is the perfect moment to talk about family time management.. We, as parents, know how difficult it is to give time frames to our children! How do we achieve a family rhythm if children are not aware of the time that passes, the time it takes do what we have asked for or what they want ?
Mom : " Eden, it's time for your bath!"
Eden : "No, not now, I want to play, 5 more minutes ! » 
Sounds familiar ? We have prepared our best tips for managing this kind of situation without negotiations 😉
A LOT OF SAND TIMERS OF DIFFERENT COLORS THAT COUNT THE MINUTES :
We have tested the 6 colors sand timers that count 1, 3, 5, 10, 15, 30 minutes. 5 more minutes to watch TV ? Just set the green sand timer.  10 minutes of reading before turning of the light ? The blues and timer will count the minutes. Once the sand glass is empty, the children know that the time we have given them for an activity has expired. It's time to move on or do what we have asked. A super system that allows children to better understand the time spent in a fun way. And you will be surprised to see that the children will tell you themselves when the sand glass is up 😉
>> Info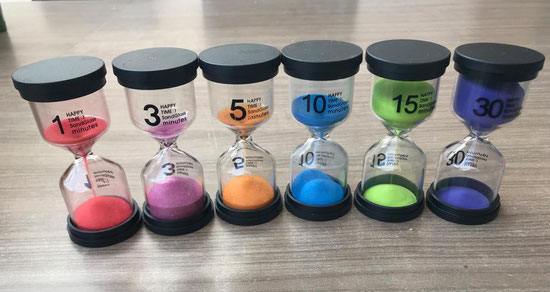 EDUCATIONAL WALLCLOCKS AND WATCHES BY TWISTITI : 
On Twistiti watches and clocks, numbers are replaced by symbols and colors known to young children. During "long" car journeys, to the question: "When do we arrive?", you can just answer: "When the little needle will be on the pink and the big one on the cat." This way, the child can follow the time that passes. Very appreciated: the silent movement that won't disturb your kids.
>> Info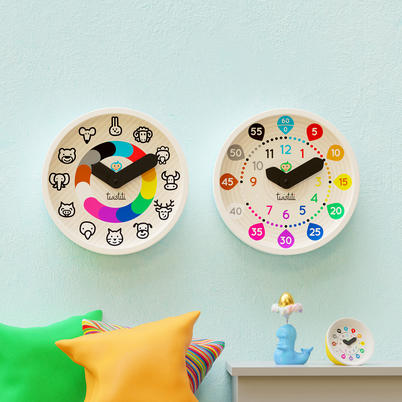 KID'SLEEP CLOCKS : 

With the daylight-saving time change, we need to face an additional difficulty: it is no longer dark when going to bed. Alarm clocks like Kid'sleep that indicate the moment to fall asleep and the moment when one is "allowed" to get up are very useful to tackle this issue. If the rabbit is still sleeping, tucked in bed, it's too early to get up 😉
>> Info
THE GOKI WOODEN TIME CALENDAR : 

We also recommend the wooden time calendar from Goki, for children over 5 years old. Very useful to follow daily the time that passes, the week, the months, the seasons etc.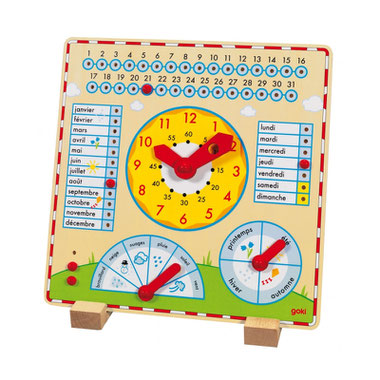 Don't hesitate to contact Family Time Saver at ☎ 0476595758 or hello@familytimesaver.be !